Shopping cart (trolley) desinfection equipment
Currently, the entire world is affected by the coronavirus pandemic and therefore it is important to disinfect the shopping trolley (cart) after each use. Our trolley disinfection equipment is a simple, effective and fast way to fight against bacteria and viruses.
Trolley disinfection equipment:
ultrasonic motion sensor, disinfection process, takes place without any contact;

maximum effect with minimum cost;

easy to install;

material: AISI 304 grade stainless steel;

control unit – IP 65 (waterproof);

38 liter disinfection tank;

LED lighting system;

meets the standards: EN 60204-1:2018, EN ISO 12100:2010, EN ISO 13850:2015, EN ISO 14120:2015;

meets the standard: 2006/42EC – Machinery Safety Directive.

Due to

excellent pulverisation, shopping trolley gets completely covered with desinfection liquid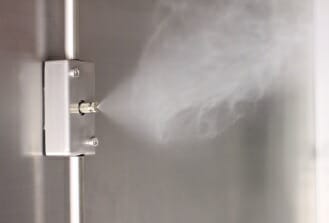 Dimensions: height 1460 mm, width 1420 mm, depth 1420 mm;

Control unit dimensions: height 750 mm, width 330 mm, depth 1035 mm.